Welcome to the ZyEl Wiki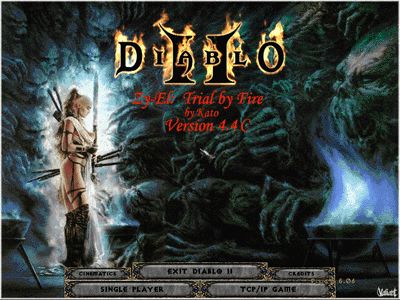 This is a modification (Mod) for the Diablo II LOD Expansion by Kato. It has been developed over a number of years and has a dedicated following of players.
The style of Mod is best described as "a builder Mod" as not only do you build your character(s) as you play, most of the items you use will be "crafted" to suit your own individual needs. Zy-El gives more options and opportunities for crafting your own items than almost all, if not every other Diablo II Mod.
It all started way back in September 2002 with the release of version 1.00. If you want to see a brief history of how the mod developed from a players perspective, take a look at A Brief History of Zy-El. The current version is 4.4C but the Mods author, Kato, is working on, well, having another one of his famous catnaps and we don't know when or if he'll be back. What is the best way to find out more about the Mod? Go to our Links Page, download the Mod via the Official Website, install and play it in addition to browsing through the information gathered here at the Wiki and at The Phrozen Keep forum. Also check out our News Page regularly for important announcements and updates. Enjoy your visits here and at The Phrozen Keep and above all, have fun!
Good News
Bad News
How to Install
Zy-El and PlugY


Link to Russian Mod Guide This version 4.3 guide was converted to Russian by MahatmaQL and is available from this link for our Russian visitors. MahatmaQL is working on a 4.4 version of the guide and when it is finished we will provide a link to that also.
Runewords |  Cube Recipes  |  Cube Scrolls  |  Charm of Making  |  Zy-El Scrolls  |  Magic Collectors  |  Piggy Banks  |  Posters |  Treasure Cards  |  Gems and Runes  |  Items |  Known Issues


Characters |  Player's Tavern  |  Hirelings |  Monsters |  Guides |  Caps and Rollovers |  Tournaments |  Links & Downloads  |  Hall of Fame  |  Credits |  Member Tasks  |  Backup Log
Latest activity
Photos and videos are a great way to add visuals to your wiki. Find videos about your topic by exploring Wikia's Video Library.